Flamenco dancing skirt, model E-3953
Flamenco Skirt
Flamenco skirts - Ref: 61E39531
Flamenco dancing skirt which is slim-fitted to half-thigh. This skirt has a back godet of half-cape and it is very gliding because of its cape. This comfortable and smart flamenco skirt is specially designed for dancing and practicing flamenco in dance schools and at special flamenco
OUT OF STOCK - Check here for the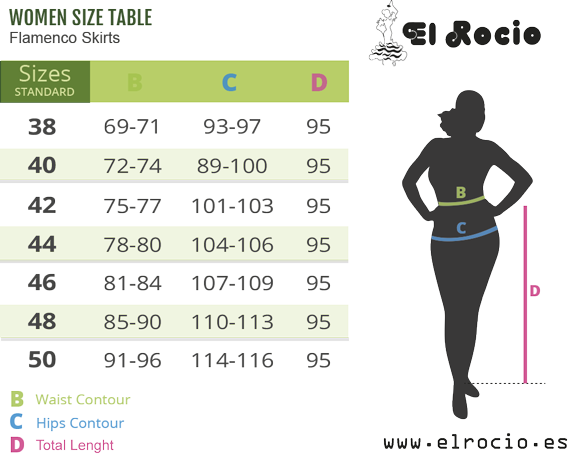 Flamenco Skirt
Flamenco skirts - Ref: 61E39531
Flamenco dancing skirt which is slim-fitted to half-thigh. This skirt has a back godet of half-cape and it is very gliding because of its cape. This comfortable and smart flamenco skirt is specially designed for dancing and practicing flamenco in dance schools and at special flamenco shows.
Our shop, El Rocío, has a fashion line of
flamenco skirts
for woman dancer and
flamenco dancing clothes
of the brand Happy Dance which has a very wide catalogue of flamenco dancing skirts belonging to exclusive and elegant designs. Its main fabrics are polyester or silk stitch which make these skirts very light and comfortable for dancing. These clothes for flamenco dancing are specially designed for semi-professional and professional dancers to wear them in flamenco dancing schools or at shows in stages. These flamenco skirts are totally made in Spain because of the quality of its materials and fabrics and its incomparable prices. In this category, you will find all flamenco items at very low prices, with special offers in
flamenco skirts for women
which you can combine with our broad range of dance maillots. Choose among all these types of flamenco dancing skirts and select your size.
30 other products in the same category: