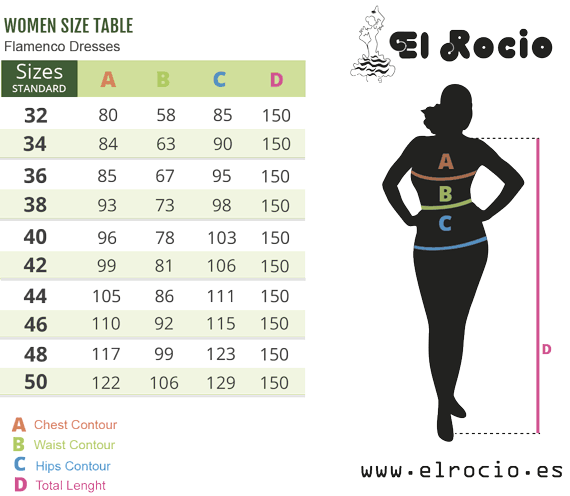 Flamenco Dress 2018 Alhambra
A lovely flamenco dress, it's included in the new flamenco trendy season 2018. Its a gorgeous and original Flamenco Dress called Alhambra is a low-rise waisted flamenco dress that enhanced women's figure, it has V neckline and elbow sleeves with big ruffles, the skirt has a lot of small ruffles with two diferent fabric types that mixted tissue as we can also see on the sleeves. This picture is just ilustrative. This dresses are available by phone request you can make your order in many color or prints available (please do not hesitate to contact us to see them all).
In our enterprise El Rocio you will find the best flamenco dresses online. We won't miss any famous flamenco fashion show to offer you the last trends on Flamenco wear. We manufactures our own designs and fabric styles on limited editions, made in Spain and only available in this website and our physical stores in Malaga and Granada. In this section you are searching for other season dresses, but if you want to see more dresses you can check our dresses on offer for woman. Some people prefer to wear pants instead of a dress, min that case you can buy some of our Campero suits, they are unisex and very comfortable.
Note: Accessories like shawls or flowers shown in the picture are not included in the purchase price. Complete your Spanish look with our Flamenco accessories like flamenco shoes and flamenco flowers.
29 other products in the same category: